Monday, June 4 at 2:00pm
Join us to celebrate the debut of the Library's new collection of Launchpad educational tablets and to kick off the 2018 Summer Reading Program for kids, teens, and adults. Enjoy fun, food, crafts and giveaways!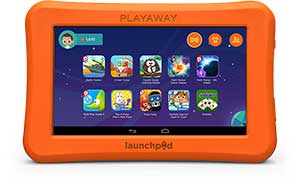 Launchpad tablets are pre-loaded with content for kids, teens and adults, and are designed with a simple, easy-to-use interface. No download time. No need for Wi-Fi. Access to powerful content is simple as turning on the device — anytime, anywhere.
Our 2018 Summer Reading Program begins on June 4. There are separate programs for children, teens, and adults with rewards and prizes awarded weekly. Beginning this year, teens and adults can submit their entry forms online! Learn more about Summer Reading HERE.